This best-selling solar panel generator is your "Magic Bullet" to protect you from blackouts, power failures & the crumbling electric grid. Use the Power Generator inside your home — to power a fridge, freezer, medical devices & more. It comes ready to use & never needs gas… ever!
Charge for FREE in the SUN
Fume-free, silent & safe
Included solar panel
Power critical appliances
100% Satisfaction guarantee
FREE Shipping & handling
Power Generator
Protect Your Family in a Dangerous Blackout with a Solar Panel Generator
A power outage can happen at any moment.
And the fact is that without power, everything will just... STOP. And when it does... those who aren't prepared might sit defenseless in the dark. Helpless for many days, or even weeks.
Sure, you could use a gas generator. But those make a ton of noise, draw unwanted attention, & have toxic fumes.
Not so with the Power Generator 1800. It's lightweight, fume-free and safe to use inside your home. It's whisper-quiet and won't attract attention. Most importantly, you'll be able to recharge it again and again… for FREE.
Picture all the ways you'll use your solar generator:
Cycle your fridge or freezer
Charge cell phones & laptops
Keep CPAP & oxygen going
Turn on a TV for important news
Run a fan, or electric blanket
Take it tailgating or in your RV!
Use power tools in weather event
Turn on lights for comfort, or to ward off looters
And much more
This solar generator could truly make a difference for you and your family in a crisis. Click "Add to Cart" to start your order now.
Powerful & Easy to Use... Right Out of the Box!
Here's what you'll love about the best-selling Power Generator…
Inside your solar generator, there's a powerful lithium-iron-phosphate battery famous for its stability. You'll love the reliability and strength of this advanced engineering.
More Power & Storage than Before
Compared to the previous model, your Power Generator 1800 now has a continuous output of 1,800 watts, with 3,048 peak. And it can hold 768 Wh of power (60 Ah).
That means that if an appliance uses 1,800 watts of power or less, your Power Generator can run it. Most small appliances including your fridge and freezer fall into this group.
Run Times for Common Appliances:
USB Lamp - 384 Hours
Phone Charger - 128 Hours
Aquarium Heater - 46 Hours
CPAP Machine - 13.8 Hours
Portable Stove - 55 Minutes
Microwave - 49 Minutes
Fridge/Freezer - 16.3 Hours
* Run times are approximate. Actual use time may be longer or shorter depending on the wattage of your appliance. For more information see footnote 2.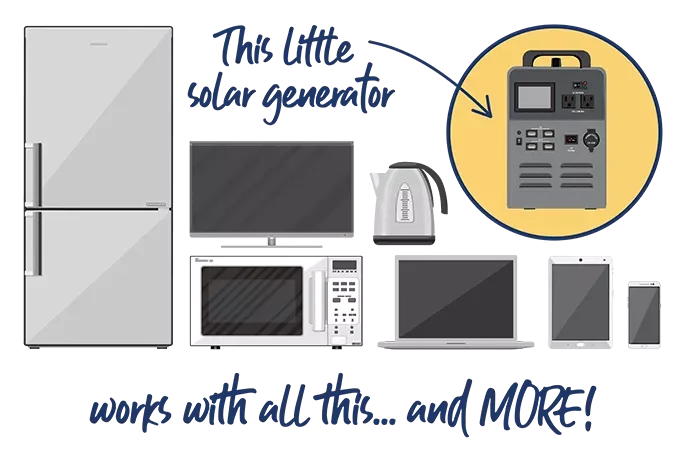 Plenty of Electrical Outlets
To make sure it's ready to handle whatever you throw at it, the Power Generator includes 8 convenient outlets.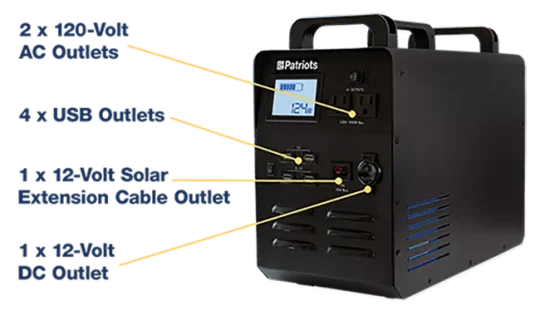 Truly Plug & Play
You don't need to be a gadget person to use your solar generator. Three simple steps and you'll be up and running:
Unfold your solar panel in the sunlight
Plug your solar panel into the generator
Plug your devices into the generator & enjoy FREE power from the sun
Your solar generator arrives charged and ready to go. There's no assembly required… you can start using it right away.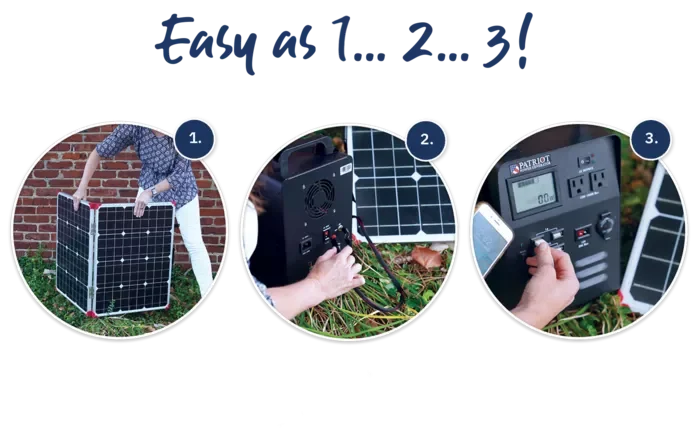 100-Watt Solar Panel Included
A commercial-grade solar panel comes with your unit. Many competitors make you pay separately for this! And their panels aren't nearly as nice.
Durable metal frame
Reinforced corners & carrying handle
Folds easily for discreet storage
Even "daisy chain" additional solar panels together to double or triple your power… and to cut your charge time in half.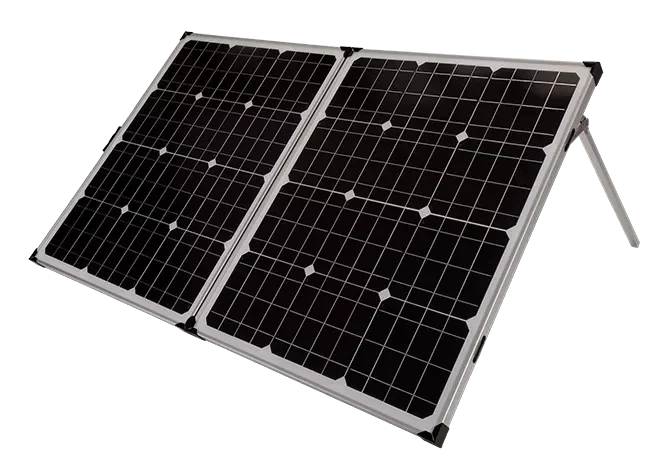 You can recharge your solar generator 2,500+ times. That's like 6.8 years of daily use. About 4X the shelf life of most solar generators.
Charge in as few as 3.5 hours with the included AC cord. Or charge in 10 sun hours with the included solar panel.
Your Power Generator is only 40 pounds. It's designed to be portable.
Product Description
The Power Generator is a solar generator that's easy to use and safe to use inside your home. It can power your favorite appliances in a dangerous blackout, and charges in the sun.
Here's what you'll get in each Power Generator box:
1 x Power Generator
1 x Commercial-Grade, 100-Watt Folding Solar Panel
1 x User Manual
All the Cords You Need to Operate the Unit
Plus, you get a 100% satisfaction guarantee good for 1 year. It's a no-questions asked money-back guarantee making this purchase totally risk free for you.And you'll get FREE technical support from our America-based care team, should you ever need it. For the lifetime of your generator!
Technical Specs
Every Power Generator 1800 comes with a detailed User Guide to walk you through the ins-and-outs of using your new solar generator. And our in-house technical advisors are just a phone call away. You can call them for FREE, for as long as you own your Power Generator.
The Power Generator is so easy to use that most folks simply "plug and play." But for all you gear heads out there... here's the full rundown in regard to technical specs:
PERFORMANCE SUMMARY:
Output - Continuous: 1,800 W
Output - Peak: 3,048 W
Storage Capacity: 768 Wh
Storage Efficiency: 12 months, 20% max leak
Charging Cycles: 2,500
Charge Time - AC: 3 to 4 hours
Charge Time - Solar: 4 to 10 hours depending on weather & number of panels
MPPT: YES
Battery Type: Lithium-Iron Phosphate
Daisy Chain Panels: YES
⚠ WARNING: Cancer and Reproductive Harm - www.p65warnings.ca.gov
DIMENSIONS:
Unit measures 15" L x 7.75" W x 13" H
Unit body is high-quality steel. Yes, we have run this unit over with a truck, and yes... it still worked. (Don't try this at home please.) This unit is built to last.
Solar panel measures 42.45"L x 1"W x 26.5"H
Solar panel is monocrystalline; folds in half for storage and has easy-carry handles
WEIGHT:
Unit: 40 lbs (20.9 kg)
Solar Panel: 25 pounds
BATTERY:
Lithium Iron Phosphate Based Chemistry (LFP)
60 Ah (12.8 V * 60 Ah = 768 Wh) Capacity.
Rated for 2,500+ charge and discharge cycles
Minimum Charge Time: 3.5 Hours
Charge Retention: 1 Year (80%)
120V AC pure sine wave, 1,800W continuous output, slow-start feature protects from over-current
Maximum of 20A @ 12V AC charging current from AC or DC circuitry
Maximum AC current pulled from AC source (e.g. a wall outlet): 4A @ 120V AC
Maximum combined charge from AC and DC circuits: 20A @ 12V DC
Maximum DC Output Current: 20A @12V DC
Prismatic cell geometry
Cooled by force convection
LCD DISPLAY:
6-bar battery-shaped gauge. Always on, so you always know that your battery is charged. Displays wattage being used while the AC switch is on for easy run-time calculations. Will remain at zero when AC switch is in the OFF position.
INPUT PORTS:
AC: 100V–240V, 50-60Hz
DC: Anderson Powerpole connector ports; 1 set, total of 20A limit using 12V input
OUTPUT PORTS:
AC: 110V–120V 50-60Hz: 2 outlets share a combined total power limit of 1,800W continuous (3,048 peak), including a slow-start feature that protects the inverter from over-current draw
DC: 4 USB outlets, 8.4A max (4 ports @ 2.1A)
DC: Anderson Powerpole connectors; 1 set with a total shared current limit of 20A @ 12VDC (240W max output)
DC: 12V cigarette lighter adapter, capable of 10A (120W) max output
OPERATING CONDITIONS:
Always read the manual before operating this device. Follow all instructions.
Keep the unit out of rainy, damp, or snowy conditions.
The solar panel is water-resistant but should not be exposed to rain or submersed.
When charging outside with a solar panel, use the panel to shade your unit for better charging efficiency.
Do not store in a hot vehicle for extended periods of time.
Temperature for operation is 32–120 °F (0–49 °C)